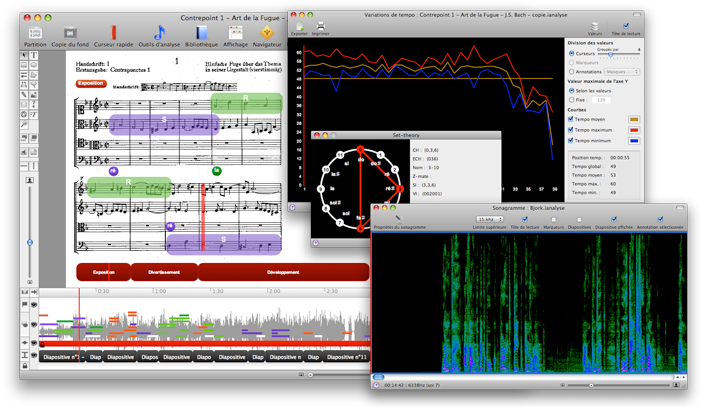 Version: 3.6
Languages: Français, English (French manual)
Price: free
Minimum system requirement:
Macintosh: PowerPC G5 or Intel Core (2) Duo, 1.5 Ghz, OS 10.5, 10.6 or 10.7, 1Go RAM, screen 1024×768 pixels or more.
The spectrum function requires an Intel processor.
iAnalyse works only on Macintosh OS 10.5 or higher. I have no plan to develop a version on Windows.
iAnalyse is a music analysis aided software. It works only on Macintosh OS 10.5 or 10.6.
iAnalyse can synchronize the pages of a score (or PDF images) on an audio or video file. You can draw annotations (graphics, texts or images) on the score, the fade in and fade out of these annotations are also synchronized with the audio file. Moving a cursor on the score to the rhythm of music can be drawn very quickly. The fullscreen and export (images or Quicktime movie) functions allow you to show or distribute your work.
Download
Download for Mac OS 10.5 or 10.6
Download licence for Pro version
You can use versions 2 and 3 of iAnalyse on the same computer. Instead, projects created with iAnalyse 2 are not compatibles with iAnalyse 3.
If you have any problems with the disk image, here is a zip format. To install it, unzip and drop it in the Applications folder.
Download for Mac OS 10.5 or 10.6 (zip format)

English manual
There is no English manual inside the software but here is an automatic translation: English manual