Import Acousmographe project
Prepare project and import to EAnalysis
Acousmographe:

Launch your Acousmographe project.
Select
> .

EAnalysis:

Create an EAnalysis project with same audio file.
Select
> .
Select Acousmographe file tab: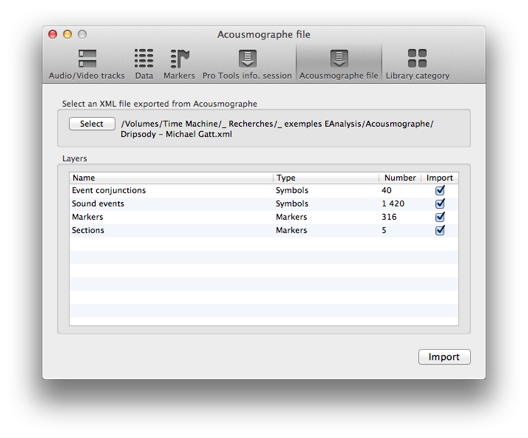 Use Select to import XML file exported from Acousmographe.
You can choose which layers will be imported.
Select Import
Importation result
Because both software have very different graphic systems, there are some differences when you import an Acousmographe project in EAnalysis.
Project
Layers are imported with markers and symbols.
Symbols beyond 20000Hz are moved below.
Preview of same project in both software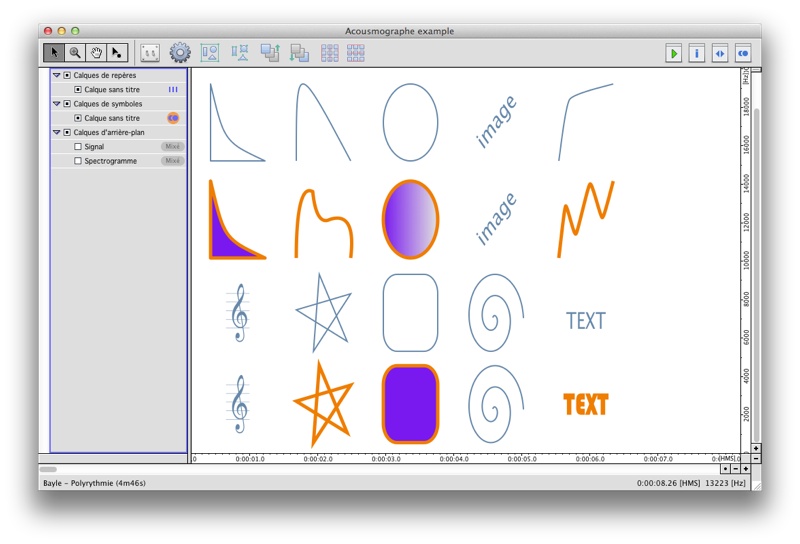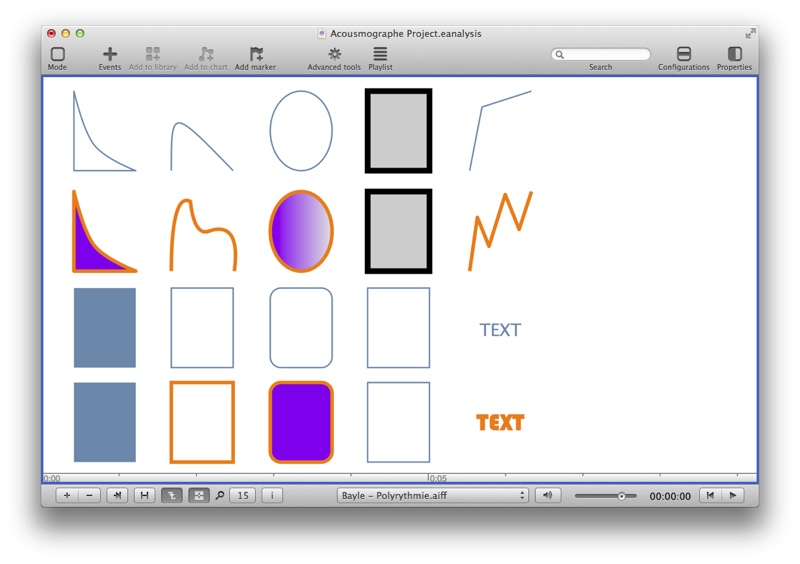 List of symbols
| | |
| --- | --- |
| Attack | imported to a polygon |
| Bezier curve | imported to a polygon |
| Circle | imported to an ellipse |
| Image | replaced by a rectangle |
| Ligne | imported to a polygon |
| Note | replaced by a rectangle |
| Polygon | replaced by a rectangle |
| Rectangle | imported to a rectangle |
| Regular polygon | replaced by a rectangle |
| Text | imported to a text |
Graphic properties of symbols
| | |
| --- | --- |
| Symbol | |
| Name | Title |
| Opacity | Opacity |
| Time | Start and ending dates |
| Freq | Low and High frequencies |
| | |
| --- | --- |
| Pen | |
| Style | Border type, none: alpha colour = 0 ; others: type = normal line |
| Mode | Not imported |
| Size | Border width |
| Ratio | Not imported |
| Angle | Not imported |
| Colours | Border colour |
| | |
| --- | --- |
| Brush | |
| Style | Uni and type, Hatched is not imported |
| Colours | Colours |
| Pattern | Not imported |
| Blend | Not imported |
| Angle | Not imported |
| | |
| --- | --- |
| Arrow | |
| All properties | Not imported |
| | |
| --- | --- |
| Bezier curve/Polygon | |
| Style | Close polygon |
| Curvature | Not imported |
| | |
| --- | --- |
| Attack | |
| Style | Close polygon |
| Orientation | Imported |
| Curvature | Not imported |
| | |
| --- | --- |
| Circle | |
| All properties | Not imported |
| | |
| --- | --- |
| Rectangle | |
| Curvature | Corner |
| | |
| --- | --- |
| Text | |
| Font | Font |
| Size | Size |
| Style | Not imported |
| Placement | Alignment + Adapt |
| Text | Text |
| Multiline Alignment | Not imported |