Edit data file
Before use this feature, you need to import data or compute descriptors.
Main properties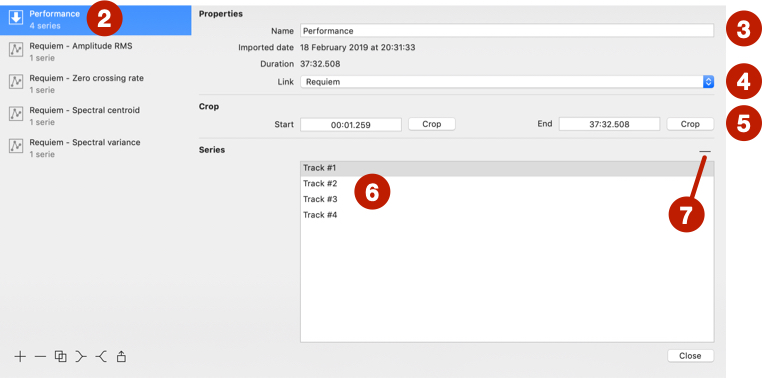 Select Compute > Edit Data File.
Select a file.
Edit name.
Link is not used.
Crop from starting date to ending date.
Edit name of each serie of data.
Use - button to delete one or several series.
Advanced properties
Select a file.
Use + to create new data (see below).
Use - to delete selected data file.
Duplicate data file.
Merge several data files or split series of data in different files.
Export selected data to text file.
Create data
The new data are created by computation on the series of data.
| Action | Information |
| --- | --- |
| Arithmetic mean | Needs 2 series or more |
| Distance | Compute distance on first serie |
| Deviation | Needs 2 series or more |
| Correlation (Pearson) | Needs 2 series or more |
| Maximum | Needs 2 series or more |
| Median | Needs 2 series or more |
| Minimum | Needs 2 series or more |
| Quadratic mean | Needs 2 series or more |
| Standard deviation | Needs 2 series or more |
| Variance | Needs 2 series or more |